A MULTICULTURAL history of Australia...
Hot words - Triggers for debate...
Lesson ideas and resources for teachers...
Student activities for home and school...
A MULTICULTURAL research library...
Download eLEARNING Objects (e-LOs)...
In this section, the Department of Education and Training and the Office of Board of Studies NSW provide links to web pages that are not developed by our staff.
These sites are managed by organisations, companies or individuals not under our control, and we are not responsible for the information or links you may find there.
We provide these links in good faith, merely as a convenience and the presence of these links is not an endorsement of those sites.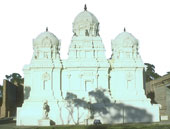 When a user has clicked on a link to another site, they leave this site and are no longer protected by the OBOS NSW or DET NSW privacy conditions.
Example sites
(links open in a new window)
Afghanistan: CIA World Fact Book
Afghanistan: CIA World Fact Book provides a basic statistical guide.....
Amnesty International Library


The library section of the Amnesty International website is particularly useful for students.....
The Immigration Museum


Although the main purpose of this website is to encourage physical visits to the Immigration Museum in Victoria.....
NSW Anti-Discrimination Board
Set up in 1977 to administer the Anti-Discrimination Act, the Anti-Discrimination Board of NSW investigates.....
This section is divided into the following key areas:
Contains links to sites which focus on helping Australians who are migrants maintain their links with their country of origin, including sites in other languages.
Contains links to learning materials that can be used by teachers in all subject areas.
Contains links to official channels for obtaining information about multicultural policy, procedures and statistics.
Contains links to individuals, groups and organisations concerned with taking a stance against racism.
Contains links to sites most useful for students learning about important social issues and promoting cross-cultural sensitivity and understanding.
Contains links to scholarly web sites providing in-depth information on multicultural issues. Covers many subject areas, including Modern History, Geography, and English.