A MULTICULTURAL history of Australia...
Hot words - Triggers for debate...
Lesson ideas and resources for teachers...
Student activities for home and school...
A MULTICULTURAL research library...
Download eLEARNING Objects (e-LOs)...
MULTICULTURAL RESEARCH
LIBRARY
Exact Sorting Capabilities...
Videos on the site can be sorted by such categories as Advertisements, Archival Footage, Documentary Excerpts, Interviews, Performances, or TV Current Affairs Excerpts.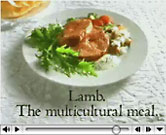 A television ad from the series "Lamb - the Multicultural Meal"
images on the site can be sorted by topics such as Artworks, Cartoons, Political Photographs or Posters.
To see the range of categories for each media type, select 'view by category' when refining a search.
Research our free and rapidly expanding library of more than 3000 pages. A major anthology of documents that includes key reports, legislation, academic writing, media reports and book segments in Adobe Acrobat and Microsoft Word formats together with a large range of video, audio, and image resources are contained within.